John C. Calhoun 1842 - 1848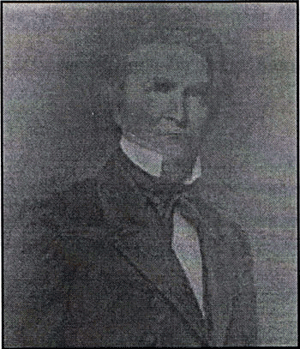 John Calhoun was born October 14, 1808, in Boston Massachusetts, and in 1821 accompanied his father to the Mohawk Valley, in New York.
After finishing his studies at the Canajoharie Academy, he studied law at Fort Plain, both in Montgomery County. In 1830 he came to Springfield, Illinois, and resumed the study of law, sustaining himself by teaching a select school.
He took part in the Black Hawk war of 1831 - 1832, and after its close, was appointed by the Governor of the State, Surveyor of Sangamon County. He induced Abraham Lincoln to study surveying, in order to become his deputy. From that time the chain of friendship between them continued bright to the end of their lives, although they were ardent partisans of different schools in politics.
John Calhoun was married December 29,1831, in Sangamon County, to Sarah Cutter. They had nine children in Sangamon County.
He entered the political field in 1835, being the Democratic candidate that year for the State Senate of Illinois, but there being a large Whig majority in the county, he was defeated by Archer G. Herndon.
In 1838 he was elected to represent Sangamon County in the State Legislature. In 1841 he, with John Duff, completed the railroad fro Jacksonville to Springfield, being the first to reach the State capitol.
In 1842 he was appointed Clerk of the Circuit Court in Sangamon County by Judge Treat.
In 1844 he was one of the Presidential Electors of Illinois for President Polk.
In 1849, 1850 and 1851 was successively elected Mayor of Springfield.
In 1852 he was one of the Presidential Electors for President Pierce, and was selected by his colleagues to carry the vote to Washington City. In 1854 he was appointed by President Pierce, Surveyor-General for Kansas and Nebraska, and he moved his family to Kansas.
In Kansas he entered a political field with new and exciting sectional elements. He was elected a delegate to the convention that framed what has passed into history as the Lecompton Constitution. He became the President of that body, which was composed of unscrupulous pro-slavery adventurers. With a small number of conservative members, among whom was the President. That odious instrument would have been adopted by the convention without submitting it to a vote of the people, had it not been for the determined opposition of President Calhoun, who threatened to resign and opposed it by every method in his power, unless it was submitted; and when it came to the polls he voted against adopting the pro-slavery clause.
Excerpted from History of the Early Settlers of Sangamon County A Centennial Record by John Carroll Power Published 1876
The Circuit Clerk Lookup System may be
unavailable periodically for maintenance.

All fees collected by the Circuit Clerk are mandated by law.

Main Phone
217 753-6674

circuitclerk@co.sangamon.il.us

The Circuit Clerk Lookup System may be
unavailable periodically for maintenance.

All fees collected by the Circuit Clerk are mandated by law.

Main Phone
217 753-6674
Contact Us by Email
circuitclerk@sangamonil.gov